We get to work on some cool projects.
A Short History of the Highrise is an interactive documentary that explores the 2,500-year global history of vertical living and issues of social equality. It's joint effort between the New York Times Op Docs and The National Film Board of Canada, and is the latest installment in Kat Cizek and the NFB's epic documentary series HIGHRISE.
The centrepiece of the project is four short films. For the first three ("Mud," "Concrete" and "Glass"), director Kat Cizek pieced together an intricate story by drawing on The New York Time's extraordinary visual archives. Affectionately called "The Morgue" the archive is a repository of millions of photographs that, for the most part, haven't been seen in decades.
Over a period of several months we used every trick in our book to help bring these incredible photographs to life. Most stills were retouched with foreground and background elements split into different layers. These were then animated with a parallax effect in order to give the illusion of depth. Others were mapped onto 3d planes and shattered to make it seem like the image was crumbling. Since much of the subject matter is visually similar (buildings of all shapes and sizes) we needed to constantly develop new ways to animate the photos in order to have the overall piece not seem repetitive.
Check out the entire thing at the NY Times website.
Part One "Mud" examines the earliest examples of multi-story dwellings and is narrated by Feist with music by Jim Guthrie.
Part Two "Concrete" looks at how the invention of re-enforced concrete influenced not only the design of highrises but also social and housing policy around the world. The piece is narrated by the films director Kat Cizek and features a Philip Glass remix by Beck.
Part Three "Glass" examines the modern day condominium as an instrument of financial speculation and the resulting socio-ecomonic fallout. The narration is provided by Cold Specks with music by Zoë Keating.
Part Four "Home" comprises images submitted by the public, cut to the music of Patrick Watson.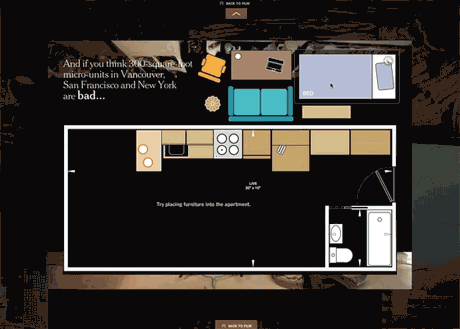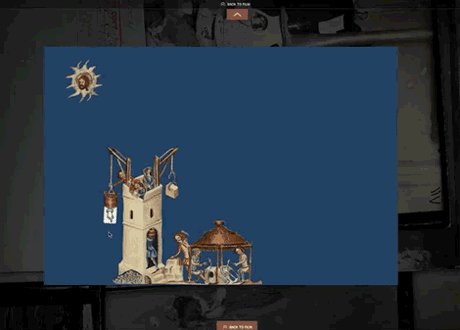 NYT art-director and coder-extraordinaire, Jacky Myint, with input from ours truly, created an interactive experience that incorporates the films into a visual accordion, allowing viewers to dig deeper into the project's themes with additional archival materials, text and microgames. Innovative use of cutting edge technologies like WebAudio, image sequencing, and a mobile-first coding approach provides a rich audio-visual experience across more devices, platforms, platforms than you can shake a stick at.