What if you woke up one day, and realized your country had changed while you were asleep? You would have so many questions. Like, where did all those collective values and ideals slip away to? Or why did things come to such a pass? Or how do you begin to make it right again?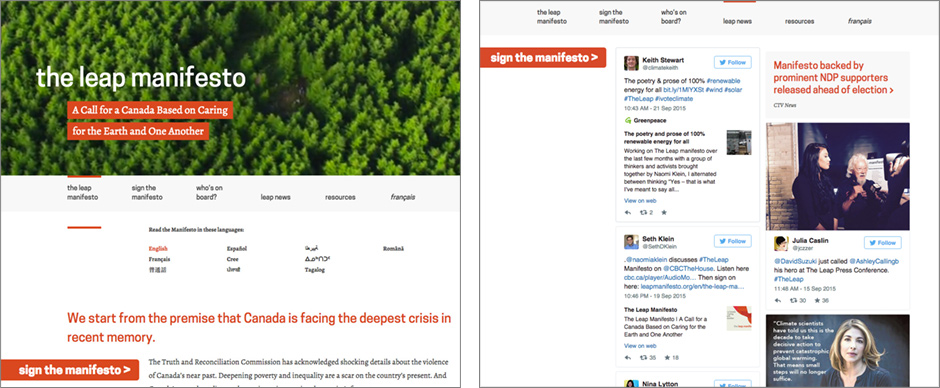 Helios Design Labs is happy to be small part of a large group of people that has brought the Leap Manifesto into the forefront of a growing Canadian awareness for such  basic needs such as addressing the human rights and heritages of all Canadians, pursuing an economy based on renewable resources, re-investing in a sustainable socialism, and following a clear path that leads us out of climate change, not into it.

Our role as designers and coders was help build the online experience of the Leap Manifesto message. The prime directive was provide the audience the most direct route between being offered the message, understanding that message, and taking action by signing the Manifesto. By providing a simple layout, a simple call to action, and a means to gratify a simple satisfaction of seeing oneself alongside all the other signatories, we see the design process for the Leap as more about making a conduit, rather than a container, for the power and the impact of the message.
The iconic illustration of a whale by Vancouver artist Julie Flett serves as a simple yet effective visual symbol of the manifesto which has currently been translated into 9 different languages.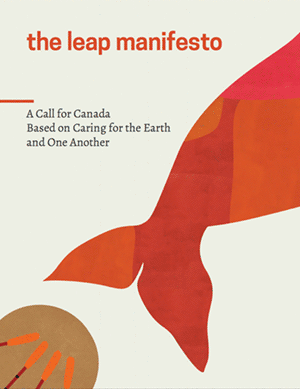 As of the time of writing, there are over 25 thousand signatories to the Leap Manifesto, an unprecedented number for such a grassroots and homegrown initiative.