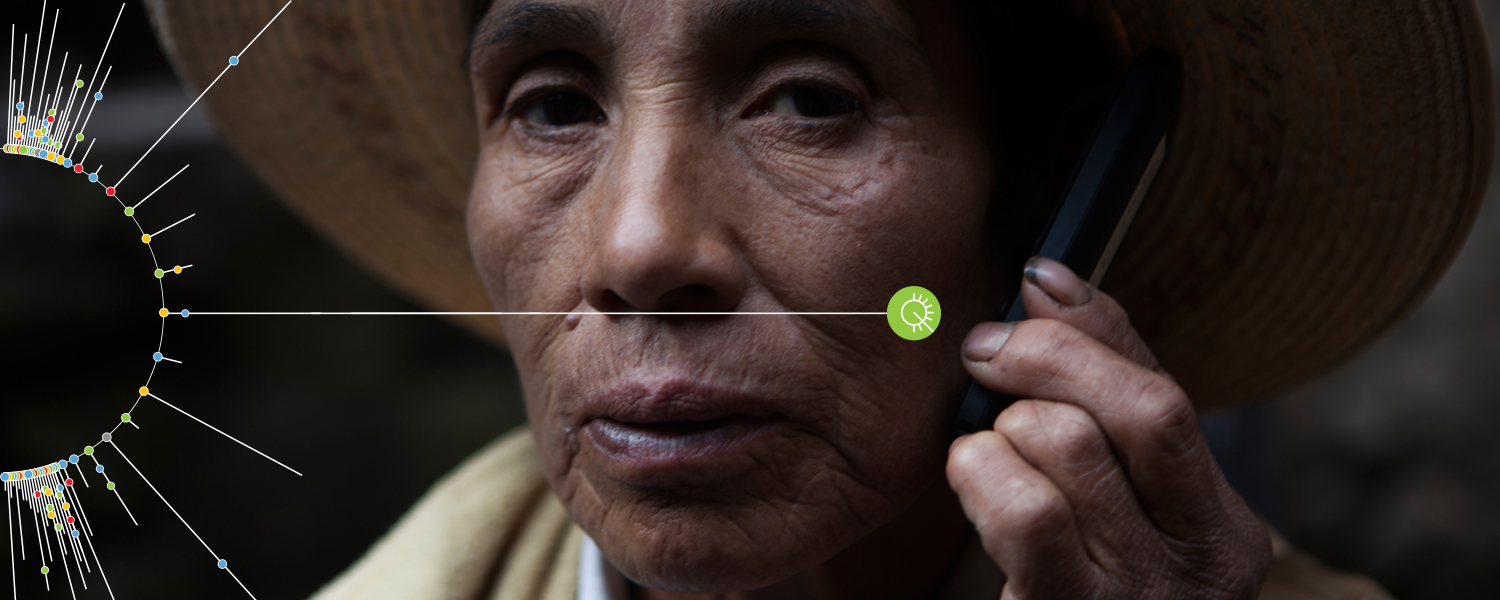 In 1995, then-President Alberto Fujimori met with Peruvian feminists at the UN Women's Conference in Beijing and announced he would liberalize Peru's strict laws on contraception by allowing women to have their tubes tied without getting their husbands' permission.

For Peruvian feminists, who had been fighting for more reproductive rights against powerful opposition from the Catholic Church and Opus Dei, this was a victory. They had no idea that the Fujimori government would use the new law to forcibly sterilize three hundred thousand indigenous women  in the Andes between 1995–2000.

excerpt from OpenDemocracy.net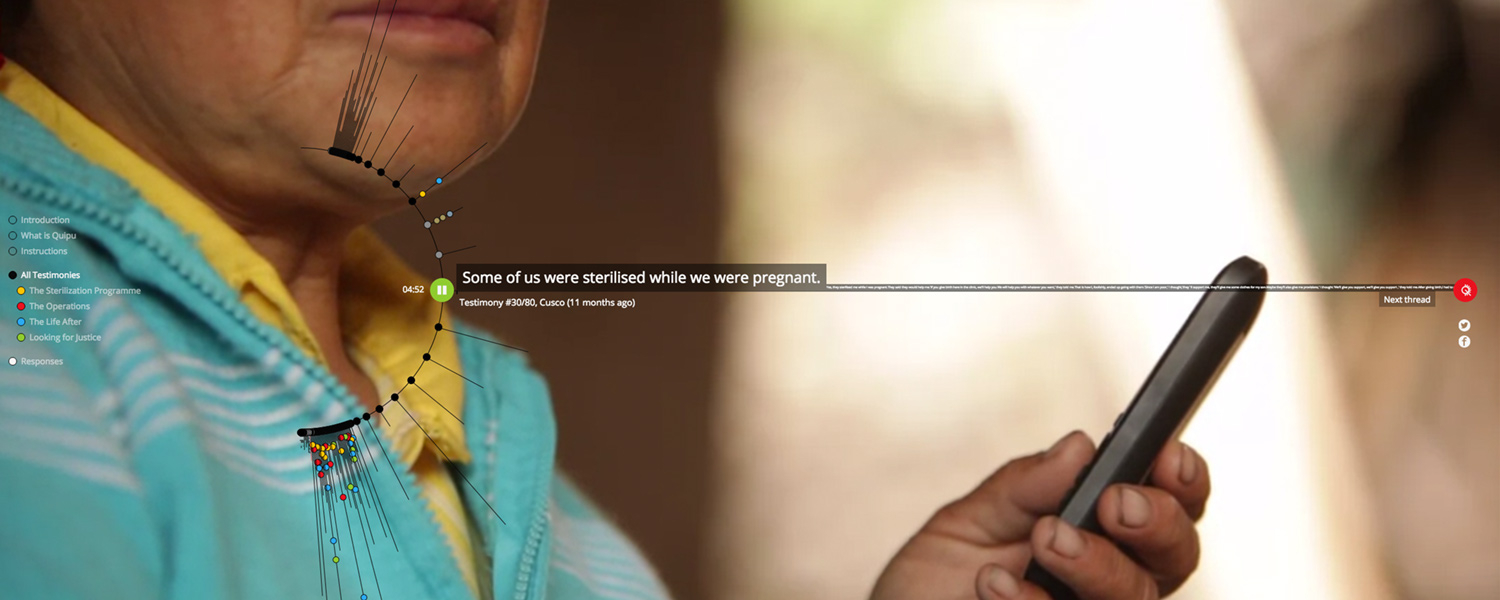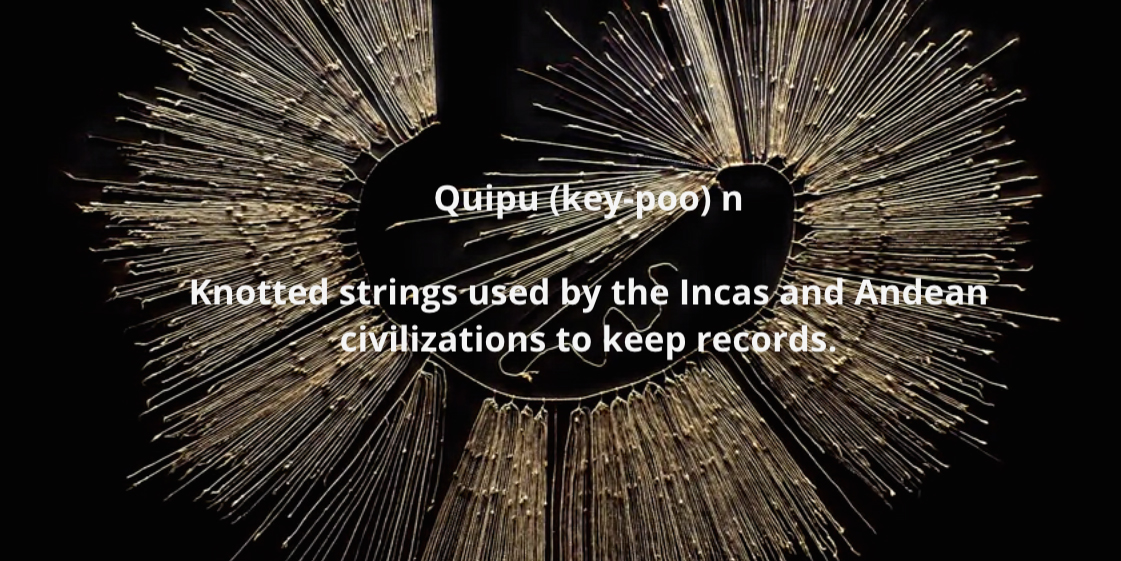 The Quipu Project can only partially be described as an interactive documentary. It is a kind of sprawling communication network that wraps film, the internet, code and imagery together with cell phones and on-the-ground outreach and activism. The Quipu Project shines a light into the lives and experiences of so many impacted by a five-year campaign to forcibly sterilize three hundred thousand indigenous women in Peru during the 1990s.
The Quipu Project is the brainchild of London-based Chaka Studios (Ros Lerner, Maria Court, Sebastian Melo, and Ewan Cass-Kavanagh), with input from Helios throughout the design and coding.
The project is conceptually modelled after its namesake, the quipu, a device used by pre-Columbian Andeans to keep records and send messages. Strings and knots are replaced with a Voice Over IP (VOIP) phone line that allows inhabitants in remote areas of Peru to record and to listen to their stories.
The phone line saves these messages to files that can in turn be heard on the internet—complete with translations—embedded into an online interface that allows its audience to record their own messages through the web browser, which is in turn fed back into the phone-line, to be heard by those who told the stories in the first place. In this way, Quipu becomes a feedback loop that bridges a number of large gaps in geography, technology, culture, time and language.
The visual centrepiece of the Quipu Project is a living, moving, and frankly beautiful representation of an Andean quipu. The quipu threads are made of the long lines of text for each recorded testimony. Animated cross threads join each string, marking thematic connections between stories that are represented as knots in the threads. The end result is captivating mix that's part cat's cradle, moving crossword, audio player and voice recorder.
We've wanted to work with Ros, Maria, Seba and Ewan on the Quipu Project ever since they presented it at documentary film festivals in Barcelona and Sheffield. And now that we have, nothing could make us prouder and happier to be a part of the journey.
The Quipu Project premiered at the 2015 edition of the IDFA Doclab, as part of their Seamless Reality exhibition.