Health For All
A modern struggle with ancient roots.
Health for All is an interactive documentary that uncovers the past, present, and future of the global movement for universal health coverage.
Released on Universal Health Coverage Day, the project marks the 30-year anniversary of the Declaration of Alma-Ata, the first international declaration underlining the importance of primary health care.
The documentary was a co-production between Global Health Strategies and Helios Design Labs and was commissioned by The Rockefeller Foundation.

Health is a fundamental human right.
Being based in Canada, universal health coverage is something we take for granted. None of us have ever needed to decide between paying rent or going to the doctor. We consider access to affordable health care a fundamental human right. But we knew little about where this idea originated.
As a result, Health For All is one of the most research-intensive interactive documentaries we've ever undertaken.
Months were devoted to reading books, medical journals and World Health Organization publications on the topic. As the initial draft of the story began to take shape, we spent countless hours digging through visual archives and footage libraries to locate the perfect material that would carry the story through 2500 years and across the globe.
The wealth of obscure visual materials we uncovered was surprising. Health For All took us from ancient caves and stone pillars in India to some of the earliest film footage in existence, depicting the German Industrial Revolution and Chancellor Otto von Bismarck.
For the chapter on post-war Japan, we used archival photos taken days after the dropping of the atomic bomb to build a 360-panoramic image of Hiroshima in ruins.
The United States National archives yielded previously classified military footage revealing the devastating impact the American bombing campaign had on the country and its people.
Searches of Osaka newspaper archives uncovered pamphlets and advertisements instructing people on how to cook snakes, insects, and rodents.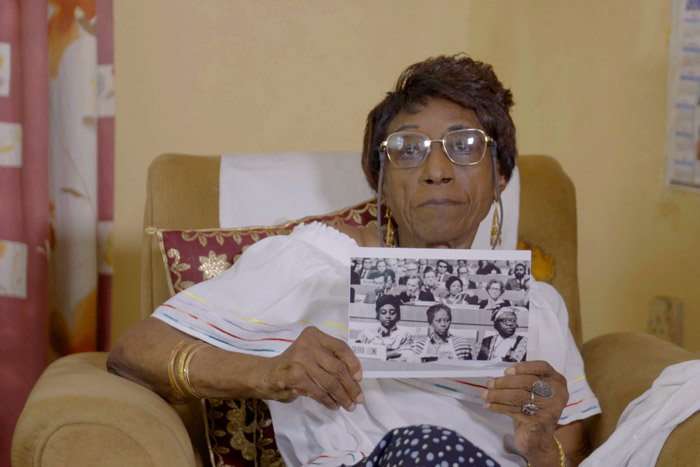 Dr. Marcella Davies, Sierra Leone
There was also the element of finding the right people. Who should we be talking to? Who are the doctors, politicians, and specialists that have played key roles in national health movements?
Our list included Dr. Marcella Davis who read the Declaration of Alma-Ata, the world's first global commitment to public health at the height of the Cold War in 1978.
Her name was discovered on a typewritten list of conference attendees, from there a friendly Facebook message got us in touch with Dr. Davis who is now in her 80s and living in Sierra Leone.
A lot of people feel that what happens in Africa stays in Africa. But with infectious disease, that's not the case. All it takes is one person to get into an airplane and fly 12 hours away.

Dr. Adaora Okoli, Ebola survivor
The WHO helped us locate Dr. Rui Vaz, who led the 2012 response to the world's deadliest Ebola outbreak in West Africa.
Through LinkedIn, we found Dr. Adaora Okoli, who treated the first Nigerian Ebola patient in Africa's largest city and survived being infected herself.
In Thailand, we talked to senator Jon Ungphakorn, one of the main architects of the grassroots coalition that implemented universal health coverage in just over a year.
In Peru, we discovered Dr. José Pérez-Lu who designed a mobile phone-based electronic health system that delivered neonatal care to poor and indigenous women high in the remote Andes mountains.
Interviews were filmed in New York in between sessions of the United Nations General Assembly, as well as in New Orleans, Geneva, Sierra Leone, Peru, and Thailand.
The link between sickness and money needs to be broken. Everyone should have access to health and shouldn't have to make the choices based on whether or not they'll go into poverty.

– Naveen Rao, MD Managing Director, Health & Senior Advisor to the President, The Rockefeller Foundation
Health For All is ultimately a global story about people fighting to turn health from a for-profit commodity into a universal human right.
We have the medical know-how to keep people healthy, but yet, the chances of living or dying still depend on who you are, where you live, or how much money you have.
And so the fight for Health For All continues.